2020, a year like no other. Business as usual was suspended, creating the space for a new venture, a range of furniture fit for the times.
With locally sourced timber from London Plane trees, cut and seasoned in the city, we designed and made a group of small pieces. They are all built for maximum flexibility of function to meet the shifting live / work demands on our homes and to ensure the extended life of the furniture.
Felled urban trees are often discarded and chipped; making furniture from them locks in their hard-won carbon and offers the tree a glorious afterlife.
Our simple, well-crafted designs showcase the richness and variety of the timber. No two boards are the same, we waste very little and each piece we make is delightfully unique.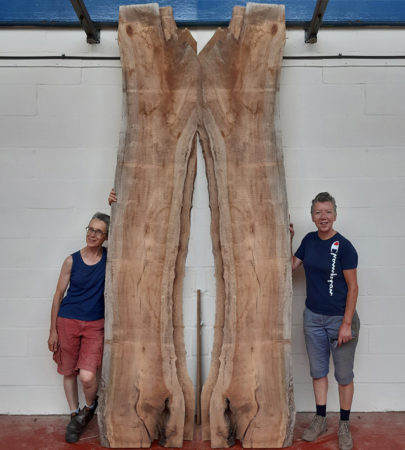 We are Claire Darwent and Titus Davies, East London cabinetmakers with 70 years of experience between us. We trained in the 1980s, Claire in Berlin and Titus in London, each embracing our trade as a thrilling escape from office life. Since then we have honed our skills working in many different workshops, both together and separately, and the passion for making in wood has never left us.
Having built our businesses as bespoke makers, the pincer movement of climate and covid inspired us to launch a new 'off the peg' range which allows us to foreground our values of simple and sustainable design. We hope you enjoy the results.